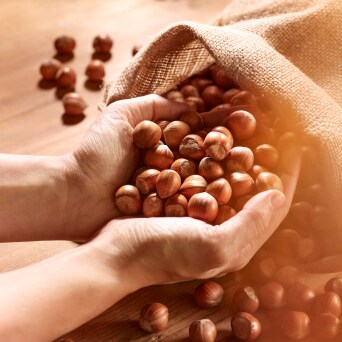 OUR QUALITY
Caring for quality is at the heart of every Ferrero Rocher chocolate bar. Our quality ingredients are nurtured and sourced from carefully selected suppliers and farmers. They are then brought together in a meticulous approach to quality control and regular tastings, as we strive to ensure that each Ferrero Rocher chocolate bar is a delicious taste experience.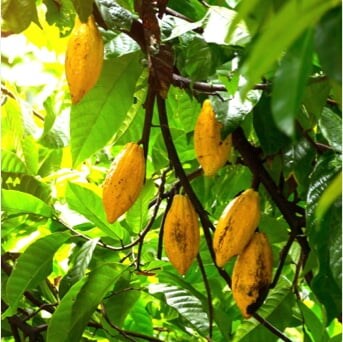 OUR COCOA
Cocoa is a distinctive ingredient in Ferrero chocolate bars. To sustain the quality of our bars, we must care for the cocoa and how it is sourced.​

During each step of the cocoa journey, Ferrero is present to ensure together with its partners that the cocoa meets our high standards and to continuously improve the environmental and social sustainability of cocoa production.​

As of January 2021, 100% of the cocoa for Ferrero products is sourced through leading certification bodies and other independently managed standards such as Rainforest Alliance (UTZ), Fairtrade, and others.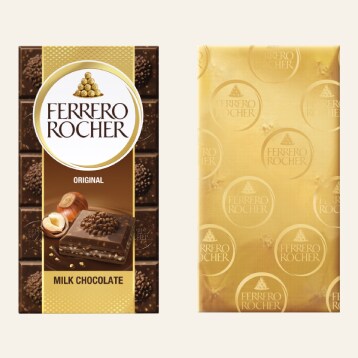 OUR PACKAGING
The Ferrero Chocolate Bars are sealed in a hermetic aluminium foil inside a cardboard case to protect the taste and quality of the bar.​

​The foil is a composite aluminium film with a thin plastic layer to ensure an airtight seal around the bar. Please check with your local council recycling scheme on the correct way to manage this material*.​

​The case is made of cardboard from virgin paper. All the Ferrero virgin paper and carboard come from certified forests. The case can be sorted in the paper stream.​ ​

​We recommend to always check your local sorting guidance for how to dispose of the packaging materials​

​The Ferrero Group has committed to make 100% of its packaging reusable, recyclable or compostable by 2025. ​ Learn more about Ferrero's packaging commitment.

*Composite aluminium is not recyclable in the U.S. and Canada.​

In Italy, Germany, France and UK it can be disposed of in the metal stream.​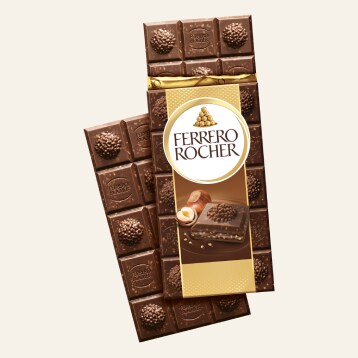 CARE AND STORAGE
Store the chocolate bars in a cool, dark place with temperatures around 18°-22°C, and avoid any hot appliances, lights, and humid locations.

As fridges are high in humidity, they are not suitable for chocolate (high moisture can result in sugar bloom). If you need to place the bar in the fridge, place it in an airtight container or double wrap it in plastic. Then, if you can resist a bit longer, bring the chocolate to room temperature for 15 minutes before consuming it.