Ferrero Rocher is on a journey to make its packaging more sustainable.

Our eco-designed boxes are made from polypropylene (PP), a widely used and easier-to-recycle material¹, carefully designed to reduce our plastic use and impact on the environment while maintaining our boxes' iconic transparency and ensuring the same high-quality product our consumers know and love.
¹ compared to previous boxes
The benefits of our
eco-designed boxes
1. Less plastic used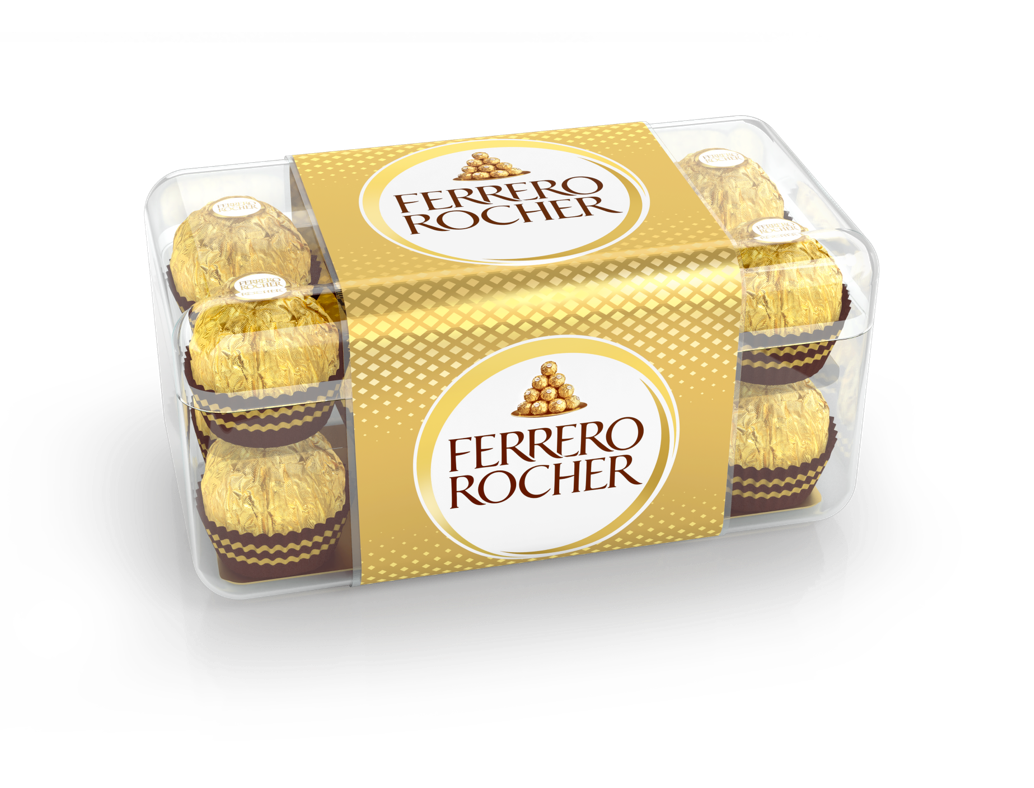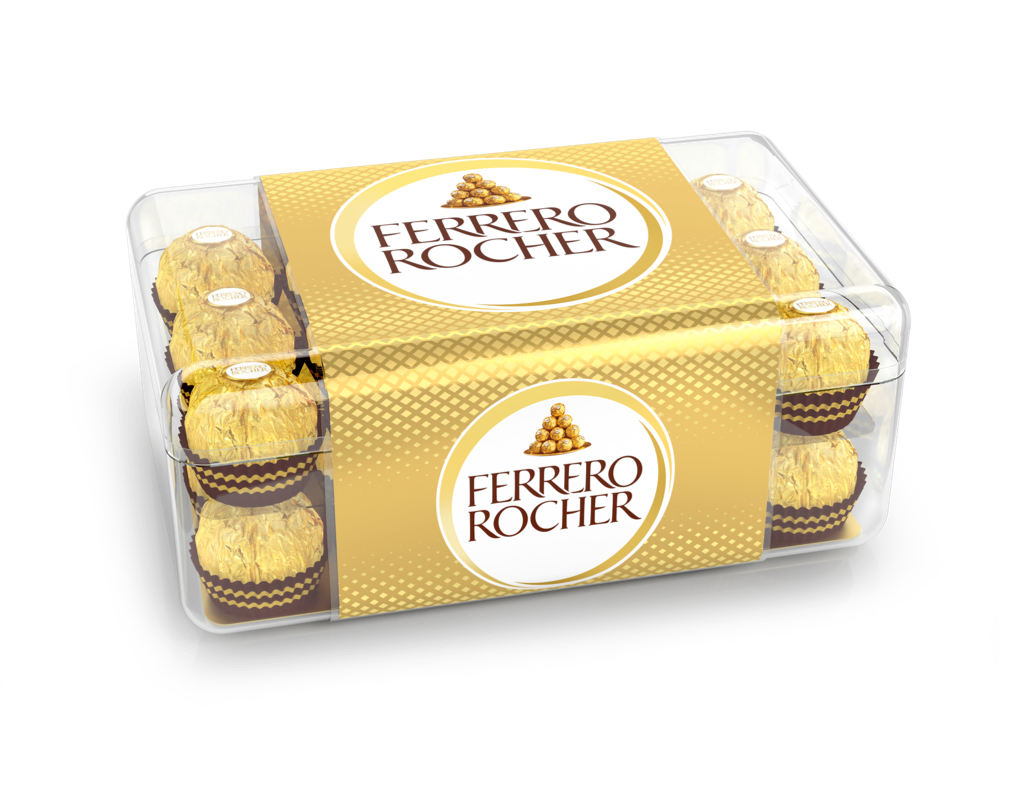 ~ 2 000
Tonnes of plastic
reduced in the first year²
Approximately less plastic used in the first year since the introduction of the eco-designed boxes² (16 and 30-piece boxes) in September 2021.

This is equivalent to more than 120 million 0.5L PET plastic bottles.
~ 10 000
Tonnes of plastic
reduced by project completion²
Estimated less plastic will be used once the implementation of the eco-designed boxes will be completed across the entire Ferrero Rocher box portfolio².

This is equivalent to more than 600 million 0.5L PET plastic bottles.
² Based on Ferrero internal data (excluding growth)




2. Lower Carbon Footprint
At least
30%
Lower Carbon Footprint³
Up to
70%
Lower Carbon Footprint if the box is recycled³
³ Findings are based on a comparative life cycle assessment of Ferrero Rocher's packaging (plastic box only), conducted in 2020/Q1 2021 by a third party following the methodological Guidelines of the Product Environmental Footprint (PEF) initiative and using global averages. The 30% emissions reduction considers a worst-case non-recycled end-of-life scenario for the new Ferrero Rocher box (incineration without energy recovery). The 70% emissions reduction considers a best-case full recycling scenario for the new box. The final reduction of carbon footprint depends on the efficiency of the recycling stream and on the share of the boxes actually recycled.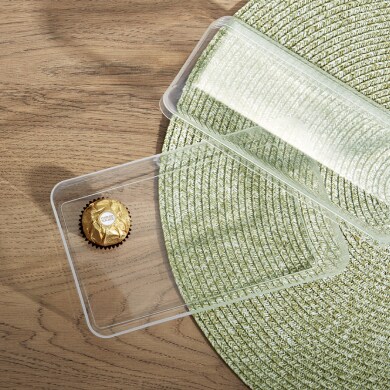 3. Plastic box easier to recycle⁴
The eco-designed boxes are made from polypropylene (PP), which can be recycled in many countries. However, these recycling systems are not present in all geographies. Please check with your local municipality for how to properly dispose of the Ferrero Rocher packaging in your area.
⁴ The recycling programmes available globally for rigid PP packaging are significantly higher than for the previous materials we have used to produce the container.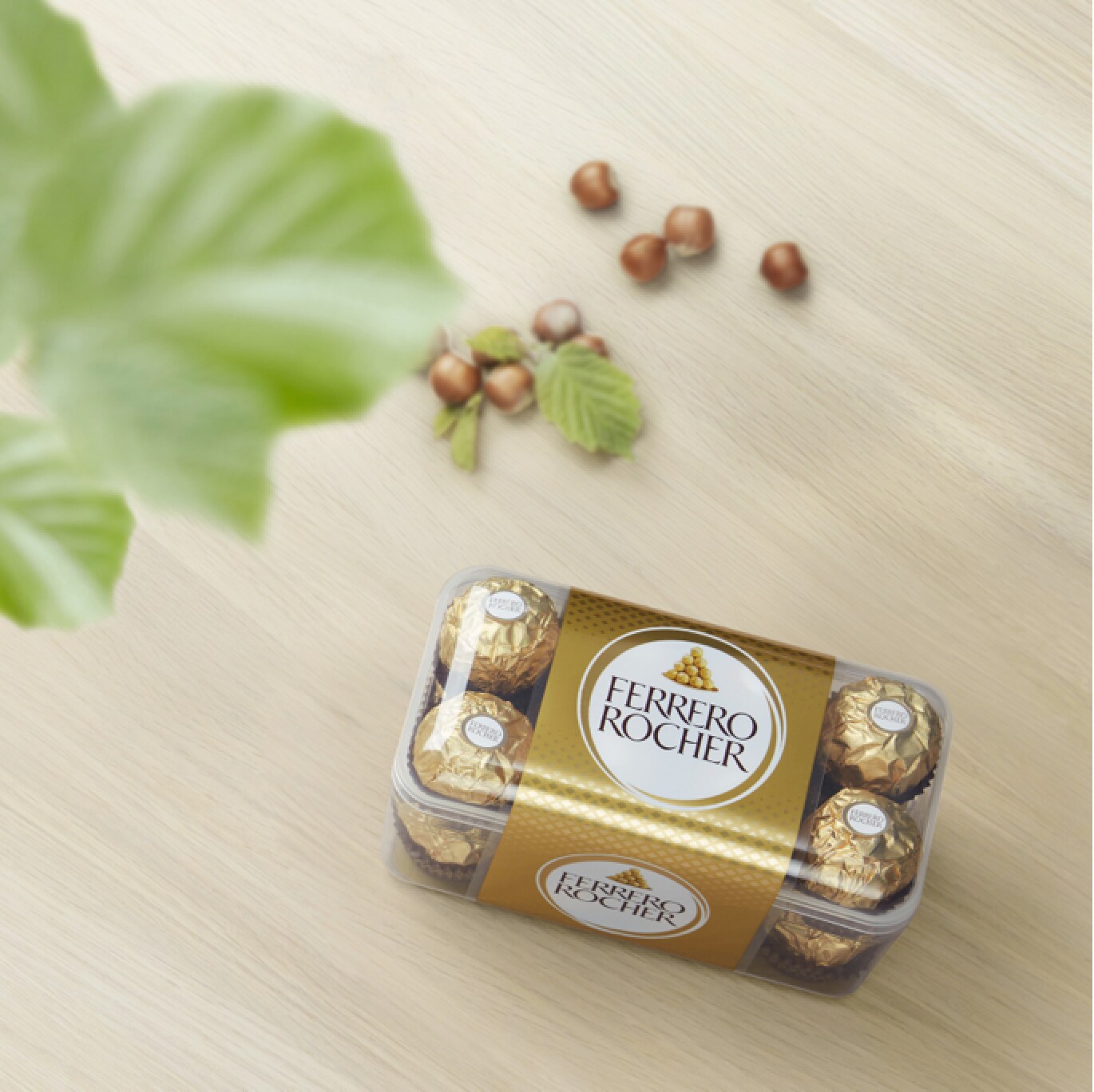 The change to the eco-designed box
As Ferrero Rocher eco-designed boxes are introduced in different markets at different times, starting with our most iconic formats 16-piece box and 30-piece box, some previous boxes might still be found on store shelves. We aim to complete the introduction of the eco-designed boxes by 2025 and during this period, the previous boxes will gradually be phased out.
OUR JOURNEY TOWARDS MORE SUSTAINABLE PACKAGING
Ferrero's sustainability strategy drives the company to raise its ambitions, whilst aspiring to create positive social change and a reduced environmental impact wherever it operates. Enhancing packaging sustainability is a key part of this ambition, as this one of the industry's major challenges.

Discover our journey.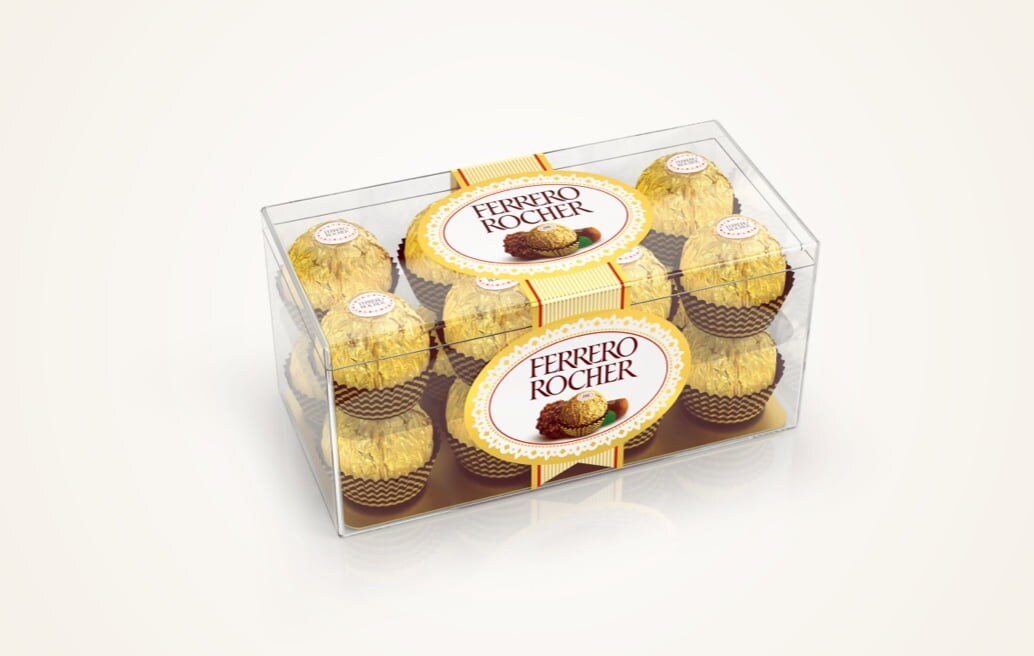 1982
The Original Transparent Box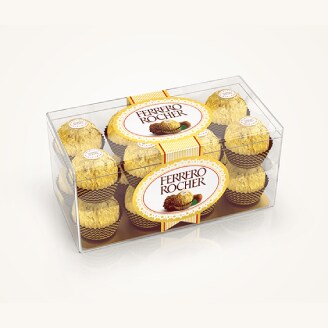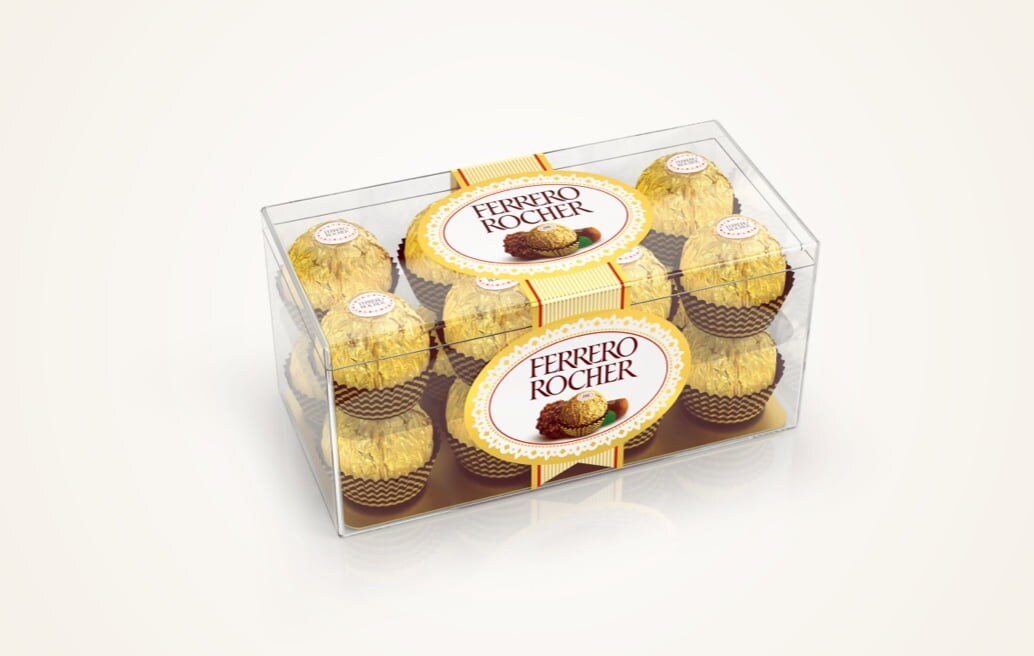 Ferrero Rocher was first introduced in 1982. Since then, consumers have appreciated the original transparent box, which allowed them to see the beautifully wrapped golden specialties.
2019
Ferrero Group's Commitment
In 2019, Ferrero Group committed to make 100% of its packaging reusable, recyclable or compostable by 2025 and signed the Ellen MacArthur Foundation's New Plastics Economy Global Commitment. Furthermore, Ferrero has committed to reducing its carbon footprint by 43% per tonne of product produced by 2030.
2021
More Sustainable Packaging, Same Quality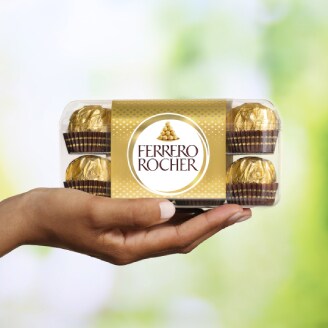 Ferrero Rocher has embarked on a journey towards more sustainable packaging. Since September 2021, we have started to progressively introduce our Ferrero Rocher eco-designed boxes, beginning with our most iconic ones: the 16-piece and 30-piece compact boxes.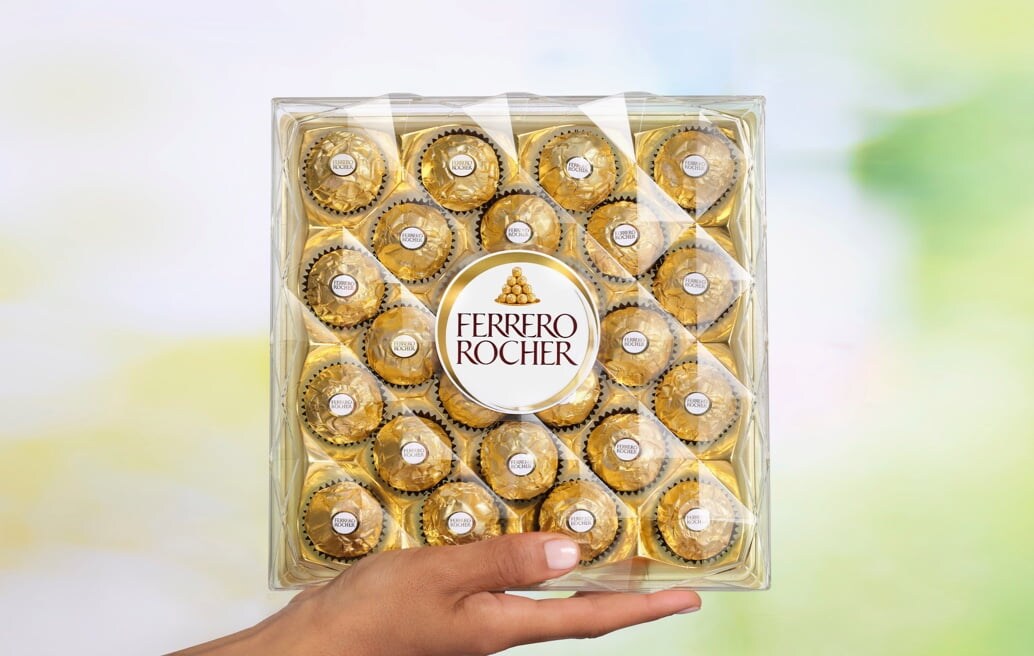 From 2023
Expanded introduction of our eco-designed boxes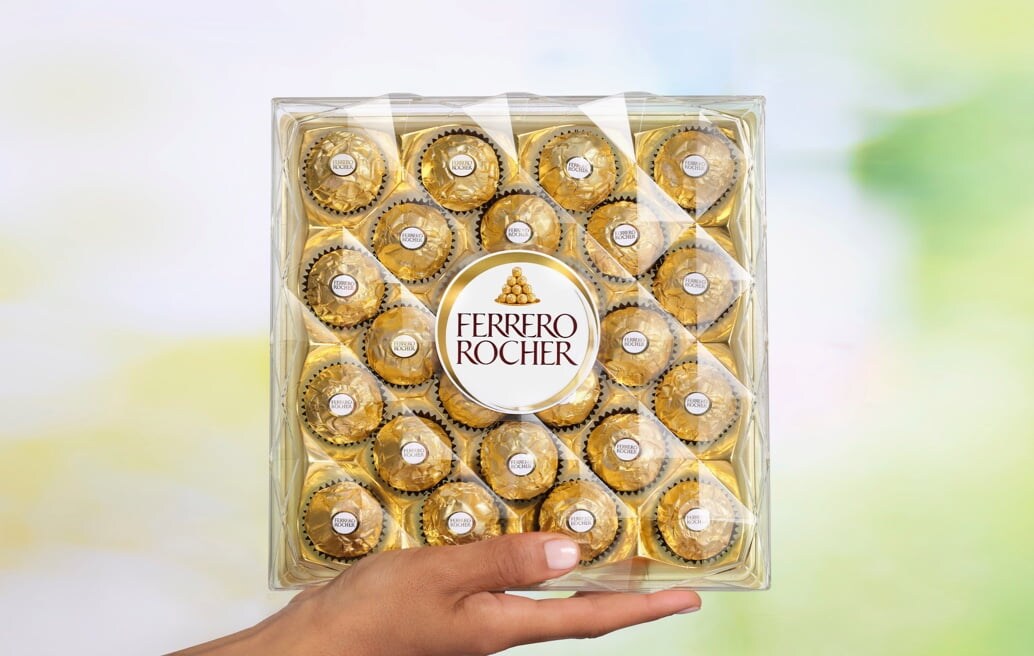 From 2023 onwards, we will be gradually introducing our eco-designed gift boxes, beginning with the 24-piece gift box.
By 2025
Moving towards our objective with the eco-designed boxes
The roll-out of the eco-designed Ferrero Rocher boxes is a significant milestone, but it is not the entire journey. Most box formats and packaging components will evolve towards more sustainable packaging by 2025, in accordance with the Ferrero company commitment.

As we move forward, we will continue to update you on our progress. Learn more about Ferrero global sustainability initiatives in the Ferrero Group Sustainability Report.
DISCOVER
Our eco-designed boxes